STOP X ROSE + Zutta LED Mask
Meet the Sk(innovator), Zutta's collaboration bundle with TriPollar
Our art-focused, FDA-cleared LED Mask and the healthy skin benefits of its clinically proven Light Therapies are now further enhanced when used alongside the TriPollar STOP X ROSE device. Together, they create two skincare steps that put the best of beauty innovations in your hands to create a unique, elevated self-care experience.
Zutta LED Mask + STOP X ROSE are Perfect For:
| | |
| --- | --- |
| | Smoothing the appearance of fine lines and wrinkles |
| | Treating and preventing breakouts |
| | Reducing inflammation and redness |
| | Plumping skin and stimulating collagen production |
Who is it for?
Anyone with first signs of aging, deep-set wrinkles, sallow, sagging skin, inflammation and breakouts will benefit from adding this innovative bundle to their skincare routine. For a well-rounded ritual, why not use the combined red + blue mode of our LED Mask to smooth the look of wrinkles and clear acne, followed by an RF-induced plumping treatment from STOP X ROSE?
RF Technology
TriPollar's RF Therapy is at the heart of STOP X ROSE, which uses a targeted, deep-heating action to the dermis to stimulate collagen production and address multiple signs of aging, including wrinkles and loss of firmness and tone. When combined with the Thermal Mapping Algorithm, it delivers TriPollar's most tailored treatment, with length and temperature adjusted to your skin's needs.
Anti-Aging Red Light
Our anti-aging Red Light Therapy uses Red LED wavelengths to pass through the skin's surface layer and into the dermis to trigger the production of more collagen and elastic fibers. This improves skin texture and elasticity while preventing the breakdown of existing collagen, calming inflammation, increasing cell energy and supporting the skin's healing process.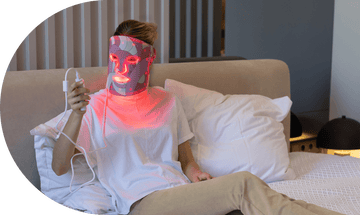 Acne-Reducing Blue Light
Our Blue Light Therapy uses blue LED energy to target the epidermis – the surface layer, less than one millimeter into the skin – and eliminate bacteria that can lead to breakouts. This means that it not only treats current blemishes but prevents future ones. Blue LEDs also reduce the appearance of blackheads and inflammation.
The Anti-Aging, Acne-Reducing Sk(innovator) Bundle